Who Doesn't Love a Good Deal?
Welcome to our Deals page! Check this page often to keep up on the best deals that we are offering.
November Supplement of the Month
Flu Kit – Stay Healthy This Winter
Vitamin D, Multi Probiotic 4000, Ester C Plus
10% Off In November
Massage Club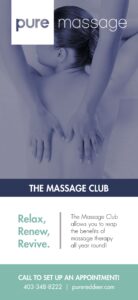 If you are going to join a club, why not join the massage club!
By joining, you will reward yourself with one 60 minute therapeutic massage per month. This means one hour each month of uninterrupted "me-time" for you to enjoy and work away the daily stressors that your body carries.
Maybe you are involved in sports and put your body through rigorous activity – massage can help with that too!
Massage therapy has so many benefits and by being part of the Massage Club you will have an opportunity to experience them at an incredible price.
Call us for more details or to sign up today!