We offer a team-based, collaborative approach to health with a diverse team of practitioners and health assistants. From chiropractic care and physiotherapy to massage therapy and nutrition, we can provide you with the tools to achieve your health goals.
Our people are dedicated to providing an exceptional experience in our clinic and share a true passion of health not only in the clinic, but with their friends, family and community.
Meet the Pure team
---
DOCTOR OF CHIROPRACTIC
Dr. Michael Heinzlmeir, B.Sc., D.C.
It is an honour to introduce myself to you as a Chiropractor. I was born and raised in Red Deer, and I am once again finding it a privilege to call Red Deer home. My wife Rayna and I moved back to this area that we have grown up in because we love how family orientated Red Deer is. Now we enjoy Red Deer with our four beautiful children.
I chose to become a chiropractor after I shadowed a chiropractor for a day and realized the true healing potential that one's body has. I will never forget that day; I saw a little boy who was wetting the bed at night get adjusted. The next day his mom called the chiropractor I was shadowing and let him know that her son did not wet the bed that night and they had not used any drugs or surgery. Witnessing such a life changing experience for that individual, I knew that this was a profession that I was going to be a part of.
I began my journey to join this amazing healing profession by attending Red Deer College for two years, the University of Calgary for one year, and then moved to Davenport, Iowa, to complete both a Bachelor of Science degree as well as a Doctor of Chiropractic Degree at Palmer College of Chiropractic. In Iowa I also put in many additional hours at an intern clinic and program to increase my ability to bring patients optimal health. It was through this specialized training that I understood the knowledge regarding the very specific Gonstead adjusting technique. In my last year of education I was fortunate enough to be part of a group of students and teachers that traveled to Vietnam for a chiropractic mission trip. During this experience I spent three weeks providing chiropractic care to people in the poorest areas of the country. This was an incredible finale to my education.
Everyday I am constantly amazed at the healing power that each of us possess inside of our bodies. I know through working with thousands of patients that you are absolutely meant to be healthy from the first and until the last breath of your life. Discover your true potential by unleashing the power that your body contains bringing you the highest possible level of health. I look forward to meeting you soon.
Be Healthy,
Dr. Michael Heinzlmeir
---
DOCTOR OF CHIROPRACTIC
Dr. Scott Rude, B.Sc., D.C.
It is a pleasure to introduce myself to the Pure team serving the health and wellness needs of the community of Red Deer. Allow me to tell you a little bit about myself.
I grew up on a farm near Sedalia, Alberta which is about 3 hours east of Red Deer. Being a small town boy, I love the balance between small-town friendliness and big-city amenities that Red Deer has to offer. Growing up on the farm gave me plenty of opportunity as a child to get into a lot of trouble. I developed an "addiction" to jumping on a trampoline, which landed me in a chiropractic office with back pain at a young age of 8. This incident shaped my future and I came to appreciate the importance of good spinal health as well as overall health and wellness.
I played volleyball with the Medicine Hat College Rattlers for 2 years while working towards a Bachelor of Science in Biological Sciences. I transferred schools and later completed that degree at the University of Calgary in 2006. While playing volleyball in college, I witnessed the advantage of treating a myriad of sports injuries using chiropractic. I also realized the benefits of avoiding potentially harmful drugs and surgery to treat these same injuries. This encouraged me to fulfill my childhood curiosity about becoming a chiropractor.
Attending Palmer College of Chiropractic's campus in Port Orange, Florida gave me the opportunity to study at a brand-new and state-of-the art facility. I graduated on the Dean's List, as a Presidential Scholar, and as class Valedictorian in June 2010. In addition to the standard chiropractic curriculum, I attended many seminars dealing with structural correction of the spine and how to achieve optimal health of not only the spine, but of the entire body. In my second year of the chiropractic curriculum I had the once-in-a-lifetime opportunity to be a part of a chiropractic mission trip to the Dominican Republic. I had the awesome privilege to assist chiropractors from all parts of the United States and Canada deliver chiropractic care to underprivileged and underserved areas of the country. I was honored to have witnessed many people's first and only chiropractic adjustment as well as the positive health changes that followed. It was truly amazing!
I am very proud to be a chiropractor and I'm very passionate about helping people reach their full health potential. Whatever your health goals are, I look forward to working with you to ensure that you reach those goals!
See you soon!
Dr. Scott Rude
---
REGISTERED KINESIOLOGIST
Jared Doyle
I applied to Pure on a dare and was completely shocked, when after my interview they still wanted me to come back.
I have always had a deep respect for taking care of our planet and our environment. I moved to Alberta from Prince Edward Island (to follow a girl) and have been turning the lights off after people ever since. I have learned so much since starting at Pure about my own health, that my respect for the health of the environment has changed into a respect for taking care of my own health and the well-being of the people surrounding me.
I currently hold a Bachelor of Recreation and Sports Studies and Physical Education Degree from the University of New Brunswick. After working at this fantastic facility I look forward to applying to Chiropractic College, talking the Doctors into paying for my schooling and then coming back to work for them for the rest of my life.
Cheers.
---
MASSAGE THERAPIST
Sabrina Hunt, RMT
Not only does massage help people physically, but it can also be a mentally enlightening and freeing experience. As a therapist, I really just aim for my patients to feel comfortable and leave feeling amazing.
If that can happen for them, then I can leave work at the end of the day feeling a sense of accomplishment and happiness.
Being a massage therapist was something I wanted to do for a very long time. It always seemed like a great thing to be able to help people in a natural and comfortable setting. As well as helping people, doing something for them naturally is very exciting.
I grew up in a small town less than an hour east of Red Deer that was never really influenced by anything holistic, so doing this for a career was a big change that I have loved every step of the way.
I'm very excited to be a part of this clinical team and look forward to helping you during your next visit with us.
---
MASSAGE THERAPIST
Leanne Haughian, RMT
Hi! Let me start off by saying i am excited to join the Pure Team. I too started off as patient a few years before joining the team. Much has changed for me since then.
I am originally from Unity, Saskatchewan. I moved to Alberta 12 years ago to pursue an education and career in Animal Health. I moved to Red Deer after college, working as an Animal Nurse.
Five years ago I married my college sweetheart, then one week later left for 6 weeks to Nelson, British Columbia for Hatha Yoga Teacher Training. This training inspired me to continue learning better ways to take care of myself and others. I received my 2200 hour Massage Therapy diploma in early 2016. I feel very honoured to be able to offer these gifts to help people feel good in their bodies.
A little bit more about me. I usually spend my spare time with friends, family and of course my cat Benny! I enjoy movement whether it be yoga, boot camp, hula hooping, hiking or skiing. I spend a lot of my summer camping, attending various music festivals, really any activities that challenge me and nourish me.
I look forward to meeting with you soon!
---
MASSAGE THERAPIST
Layne McRorie, RMT
Layne joined the Pure team in the spring of 2016 after completing her Massage Therapy certification.
Layne is an extremely talented massage therapist and enjoys sharing this talent with Pure's massage clients.
Born in Manitoba, Layne moved to Red Deer in 2009 with her family. In her spare time, she likes to bake delicious treats for the Pure team and her family. She also knits cuddly blankets for family and friends.
---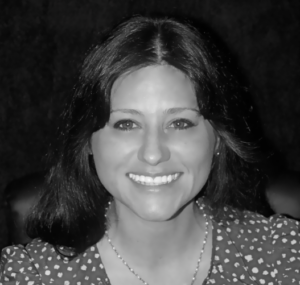 DOCTOR OF HOMEOPATHY
Dr. Kerissa Nielsen, D.M.S., H.D. 
My name is Dr. Kerissa Nielsen and I am the Chief Homeopathic Medical Officer. I practice family medicine with a special interest in women's health, mental health (anxiety and depression disorders) and hormonal disorders, and I am also a Board Certified Clinical Thermographer for the Calgary Thermography and Women's Holistic Clinic.
I am a homeopathic medical graduate of DNHMERCI and I completed my residency at Vinayaka Medical College and Hospital, in Salem, India, where I wrote my thesis paper on Multiple Sclerosis entitled: "A Homeopathic Approach to Multiple Sclerosis".
I have had the pleasure of being a co-author of a research paper dealing with the safety of homeopathic medicines and developing regulatory frame works for homeopathic medicine, entitled "Homeopathic Medicines: A Need to Develop Unique Innovative Regulatory Frameworks, Involving, Drug, Food and Natural Health Products Interactions" directed for Health Canada and published in the Journal of Pharmacy & Pharmaceutical Science.
My other areas of interest include, women's health, hormonal health, cancer care and working with the elderly.
I look forward to seeing you soon!
---
REGISTERED DIETICIAN
Janice Abbott
Last year I drove across the country to pursue my Registered Dietician career in Red Deer. Originally from Corner Brook, Newfoundland, I completed by Bachelor of Science in Nutrition Degree and Accredited Dietetic Internship at Acadia University in the small town of Wolfville, Nova Scotia. I have always had an interest in nutrition and how food fuels our body, mind and soul.
I am passionate about buying locally sourced, whole foods and taking an individualized, holistic approach to health promotion. I like cooking (of course) and sharing good food with family and friends. I also like to travel, attend concerts, and stay active in the outdoors.
I am excited to join the Pure team and work in a fun and unique environment, practicing what I love to do. I look forward to meeting you soon!
---
PERSONAL TRAINER AND XLR40 COACH
Kari Elliot, Canfit Pro PTS
The thing that makes me most excited about being a part of the Pure team is working with a group of people who are genuinely committed to the overall wellness of everyone who walks through the door.  It puts a smile on my face to get to be a part of that story.
I come from a sports and running background, having played sports year round growing up, and then making a shift to focus on running as a collegiate athlete, where I was able to compete in the NAIA US Championships in 2003.My family and I are newcomers to Red Deer, having lived in four different countries over the last fifteen years.  I have had the incredible opportunity to race not just here in Canada, but on three different continents, even finding a way to podium finishes from 5k to marathon in Canada, UK, Singapore, Indonesia, Malaysia, and the US.  It is a special feeling to break the tape in first place, especially over a long course like a marathon. One thing I have come to know through all our travels, though, is that your fitness — your wellness — is something that travels with you wherever you go!
And so, in the past few years I have become more and more involved in coaching and working with others to achieve their own sporting and fitness goals.  My own goal at Pure is to help see others succeed, to be one part of helping people get to — or stay at — a place where they feel comfortable, confident, and truly well in their own bodies.
I look forward to meeting you and partnering with you to achieve your own goals, whether in the office, on the road running together, or out at XLR40.
See you soon!
---
PHYSIOTHERAPY ASSISTANT, PERSONAL TRAINER, AND XLR40 COACH
Taylore Irving
Hello folks, I'm Taylore!
You may find me in the back Kineseo-taping like a boss and teaching some physio exercises.
I'm a new resident to Alberta. I recently moved here from beautiful Prince Edward Island with my husband and my pup. Being new to Red Deer, I feel very fortunate to have become part of the Pure family. It has allowed me to meet amazing people and explore my passion for health and wellness.
I graduated from the University of New Brunswick in 2013 with a Business Administration degree but I have always been interested in fitness and nutrition. I am a Personal Training Specialist through canfitpro, an avid runner, wannabe baker, dog lover, and now a Physiotherapy Assistant and XLR40 instructor at Pure.
I look forward to meeting you!
---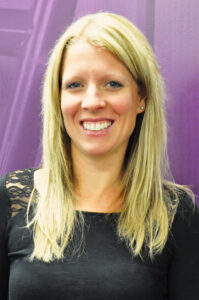 BUSINESS MANAGER
Rayna Heinzlmeir, B.A.
I have been a part of the Pure Team since its inception and have been enjoying growing with Pure every year. As the business manager my main roles are behind the scenes. I thoroughly enjoy dealing with all the business day to day operations, paper work, staffing, complicated client insurance issues, and continually learning new business strategies to better our office environment.
As a very busy mom to four amazing children, it won't take you long to see why I am so passionate about health. I have the privilege of having my office in our home. This being said you will often see us popping in and out of our main office. Our children are my number one passion in life and raising them without nerve interference and as healthily as possible is so very important to both Michael and myself. I am constantly researching and finding ways to better their path and help them understand and choose healthy options so they thrive in life.
My goal as Pure's Business Manager is to make sure our office runs smoothly, thus maximizing your, and our staff's, experience with us to the fullest. If you have any questions or concerns please feel free to contact me to see how we can better serve your health care needs.
Chiropractic changed my life in such an amazing way. We are excited to see how much it can benefit you and your family.
If we haven't already met, I look forward to meeting you soon!
Rayna Heinzlmeir
---
OFFICE MANAGER

Amanda Murch
I joined the Pure team in October of 2012. I immediately felt like I had been adopted into a large family of doctors, patients and staff. I feel blessed to work in such a positive environment with great patients.
When I am not in the office attending to patients day to day needs, you can find me outdoors. Whether it be going for a run on the Red Deer trails or hiking in the Rockies, I always have my boxer, Jerzie with me.
---
MARKETING MANAGER
Michelle Syslak
I joined the Pure team in October 2015 after being a patient at Pure for several years. I thought I lived a healthy life prior to being a patient here, but after experiencing the benefits of Chiropractic Care, XLR40 and The Massage Club, my eyes were opened to the vibrancy that my "pre-Pure" health was lacking.
Yoga is one key component that I practice to keep myself healthy. I also carry certifications as a Level 2 Reiki practitioner and reflexologist and I am happy to share my healthy lifestyle with my family and friends.
With over 12 years of administration and marketing experience in a variety of industries, I feel honoured to be part of the Pure team and to help patients achieve their health goals. You'll find me at the Mac computer most days, developing content for social media and our website or touring the clinic randomly snapping photos of our amazing team.
My camera is never far away and when I'm not working, you may see me at the local trails or parks taking photos. I also enjoy a good yoga or meditation class!
I look forward to seeing you soon!
---
PRACTITIONER RECRUITER

Ashley Aupperle
Hi, I'm Ashley. I have been lucky enough to be a part of improving patients health for about 5 years. I am absolutely privileged to be able to see the amazing changes a multi-disciplinary team approach can have on patients' overall health and wellness. I am so honoured to be able to be a part of the Pure team.
I love to be active and outdoors. In my spare time you can find me playing volleyball, baseball, snowboarding, practicing yoga, hiking or at the lake. I love to cook..and eat! As a family we love to camp, go on adventures and road trips. Finding new places to explore and discover is something we look forward to on the weekends and whenever we can sneak away. Having family both east and west of Red Deer makes it very easy for us to take off!
I look forward to going on a new journey of health with each and every person who walks in our door!
---
HEALTH ASSISTANT
Breanne Spencer
I was born and raised in Red Deer and I was a patient at Pure for a few years before I had the great opportunity to become part of the team in June 2013. It has been fun and exciting learning from the great staff here as well as the patients who have made me feel very welcome. My knowledge and appreciation for holistic health has continued to grow and inspire me help others reach their health goals.
Having graduated from Mount Royal University with a Bachelors of Business Administration degree, I am excited to use my skills to make your experience at Pure the best it can be!
When I'm not at the office, you can find me with my nose in a book, hiking my way through the Rocky Mountains, or cheering on the Calgary Flames!
I look forward to seeing you soon!
---
HEALTH ASSISTANT
Megan Gillespie
I am very excited to be a part of this positive and healthy environment. Everyone at Pure has been amazing and I love being able to help the patients that walk through the door.
In my free time I enjoy spending quality time with my family. We enjoy many activities including camping, quading, hockey and snowboarding. As long as we are outside, we enjoy doing it all.
I look forward to seeing you at Pure.
---
HEALTH ASSISTANT
Tana Greeniss
I feel like I joined the team at Pure well before I got the job here. I was referred to Pure by my co-workers at Bikram and was told to check out this awesome place. I'll admit, I was a bit skeptical and unfortunately had fell prey to a whole bunch of misconceptions regarding chiropractic care, but after being a patient for a few months I was very excited when the opportunity came up to join the team as a health assistant.
I really enjoy being a part of a health orientated office that allows not only the patients and clients to reach their optimal potential but also gives the team members an opportunity to grow. The team and the patients have really motivated me as an individual to be the best I can be.
In the spring of 2015 I graduated from Bikram Yoga College of India and became a certified Bikram Yoga Teacher. So when I am not at Pure I am at the Yoga studio teaching or practicing.
I also am an avid musician working toward completing the moonlight sonata by the end of the year. Next time you are in the office or feeling down I will serenade you to make your visit to the office a memorable and positive experience!
I am very grateful that I am able to be a part of two businesses that encourage a healthy lifestyle.
---
HEALTH ASSISTANT
Brittany Walliser
Hello, I'm Brittany. I joined the Pure team in June 2017 and am very excited to be part of this positive and inspiring environment. Everyone at Pure, the staff as well as the patients, have been very welcoming.
I moved to Red Deer with my family when I was young and have now lived here for almost 14 years. I have a background in gymnastics and cheerleading, I have spent the last 6 years coaching kids aged 1 to 19. In my free time I like to spend time with my friends and family, going camping, hiking and walking my new puppy Kota.
I look forward to seeing you all at Pure soon! Cheers!