These days it can be challenging to find time to sit down to plan and prepare meals that are nutritious and balanced. More often than not, we are on the run grabbing something from the nearest fast food restaurant or something pre-made from our pantry that is likely high in fats and sugars. These convenient foods leave you feeling temporarily satisfied, but in reality leave you undernourished. 
Without eating the proper balance of healthy, nutritious foods we are putting ourselves at risk for developing a large range of health issues, some that can even be fatal. Research shows that amongst the top 10 causes of death 4 of them are related to poor diet:
Cancer
Diabetes
Heart Disease
Stroke
There are many other health complications that go hand in hand with an unhealthy diet; these complications include:
Obesity
Inflammation
Mood Disorders
Anemia
Osteoarthritis
Fatigue
Hair loss
Lack of Concentration
Memory loss
High Blood Pressure
Infertility
What is a balanced diet?
A balanced diet means eating a range of foods that contain the proper proportions of nutrients needed by the body to stay healthy and to function at an optimal level. Making sure that you are consuming the right amount of calories, and eating a variety of foods daily, will help you to manage your health and ensure you have plenty of energy. The average person needs to consume around 2000 calories per day. However, the amount of calories needed on an individual basis is dependant on age, gender, and activity levels. Men generally need more calories than woman. The more active an individual is, the more calories they will need to take in. As general rule calories-in should roughly equal calories-out.
Basal Metabolic Rate (BMR) is a measurement of the energy (calories) that your body needs to carry out all the basic bodily processes while you are at rest. This measurement is influenced by your gender and age. Here is an easy way to calculate the amount of energy, measured in calories you need daily for you body to stay happy and health

Select a lifestyle that best describes yours from the table below, then multiply your BMR by the activity factor.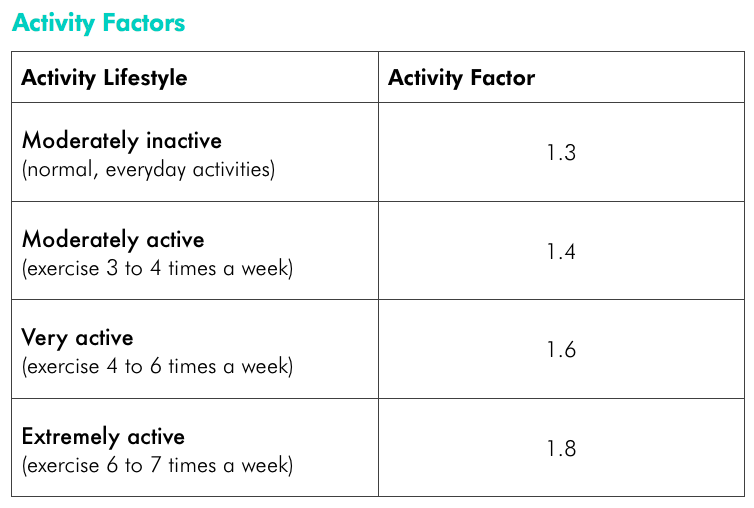 Here is an example on how calculate the amount of energy needed daily:
A female the age of 33 years weighing 65 kg and with a height of 170 cm, with a moderately active lifestyle would calculate as  655 + (10 x 65 kg) + (1.8 x 170 cm) – (4.7 x 33 years) = 1,455.9 (BMR)
1,455.9 (BMR) x 1.4 (Activity Level) = 2,038 calories required daily
The source of your daily calories is just as important as the number of calories consumed. Making sure the calories you consume are not empty calories, full of sugar and preservatives, but beneficial calories, full of vitamins and nutrients. Empty calories are foods that are high in unnecessary fats and sugars and low on essential nutrients. Some examples of empty calories include:
Cake
Cookies
Fruit Beverages
Ice Cream
Sports Drinks
Energy Drinks
How can you ensure that you are eating a diet that is balanced and rich in nutrients?
Whole foods are a great way to start learning about balance in your diet. Include more whole grains such as quinoa, rice, whole grain pasta and bread will go a long way towards managing your energy levels. Including at least one green vegetable in your daily meals doesn't have to be a struggle when there are so many options. Examples of  green veggies include spinach, green beans, broccoli, collard greens, and swiss chard. Protein is another essential nutrient required by the body for proper muscle and brain development. It is important when choosing proper proteins for your diet that you are consuming lean meats, lentils, beans, nuts, and seeds. Your diet should also consist of dairy or dairy alternatives daily, such as milk, tofu and yogurt.
Here are a few hints from our Registered Dietitian to help you to balance your meals.
Eat regularly
Eat at least 3 Food Groups at every meal
Eat at least 2 Food Groups at every snack
Eat when you are hungry and stop when you are satisfied
Snack between meals to help with overeating during meals
Balance can look different for many people. For some, balance may look like homemade food prepared in advance and froze for quick meals. For others, balance may be eating nutritious meals spread out through the day, with small healthy snacks implemented in between. Others may have to start learning how to combat "all or none" thinking, and change the way they look at food altogether. Truly, no one size fits all. For more information on balancing meals for you and your family, call to book in with our Registered Dietitian today.