There is something special about the first snowfall here in Alberta; it's absolutely stunning! When the sun reflects off of the snow, it looks as though the ground is covered in millions of brilliant shining diamonds.
Of course, by the time Christmas comes and goes, and the weather has dipped below the extreme freezing mark for a few months, the longing for the warmth of the summer sun becomes an all too familiar feeling for most of us. The need for a long overdue break from hectic schedules and the overwhelming holiday season has everyone feeling burnt out and ready for rejuvenation. The staff at Pure have experienced these feelings on numerous occasions. We've been known to take the odd holiday here or there, to reset, reconnect and rebalance.
If you're looking to sneak away and to find the perfect place to vacation, check out our favourite holiday locations, and the reasons why they're on the top of our recommended vacation spots.
 Here are 6 Top Vacation Spots Recommended by the Pure Staff:
 1.Barcelona 
The architecture in Barcelona is absolutely breathtaking. One of my favourite monuments that I had the chance to visit was the Sagrada Familia Cathedral, this architectural masterpeice has been under construction since 1882. It has always been a place I wanted to visit, but when I finally got the chance I was in awe. Words could not express how magnificent this heritage site really was. I would highly recommending adding the Sagrada Familia Cathedral to your bucket list.
During my stay in Barcelona I was also able to visit one of the beaches there, which was one of the highlights of my trip. I enjoy the ocean quite a bit, but the coastline along the Meditreanean is quite different, the water is warm and blue. The beach was busy, but busy in a great way. There were artists, music and food; it was a little taste of their culture. Spain is rich in culture. Being able to experience a little bit of  beach made my trip feel like I was able to relax, all while being emerged in the local culture, and being able to continue to grow and love Barcelona.
There is also amazing shopping. For anyone who enjoys a good shopping experience I would recommend visiting the shopping hotspot called Passeig De Gracia. This boulevard is home to some of the most well known brands throughout the world; such as Chanel and Gucci. – LINDSAY
2.  Jamaica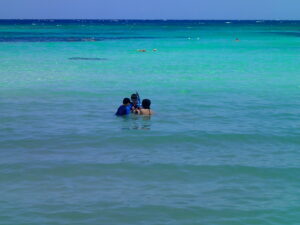 Jamaica is one of my favourite family vacation memories. We took our children to a resort in Runaway Bay which is a little town tucked away from some of the larger cities in Jamaica. We felt extremely welcomed the moment we landed in Montego Bay. Our resort bus picked us up at the airport, they provided us snacks and beverages as it was a longer plane ride and, as you may know, Jamaica is HOT. Having cold beverages on the bus was definitely a win. When we got to our resort we were super impressed; it was a little larger then we had originally thought and it was very clean and well kept (sometimes when you stay in all inclusive you don't always get what you expect). This resort, in general, exceeded our expectations. The resort we stayed at had an adult side and a children's side which was great, other vacationers were able to relax without the splashing and excitement of the children. The beach at the resort was large, the sand was white and the water was so clean and blue. The best part of this was that it was 100% private, so it was only accessible by the guests at the hotel, which made is less busy and very relaxing. The food at the à la carte  restaurant was delicious and the buffet was better then we could've expected.
Throughout our week we had the opportunity to travel to some of the larger cities, went on a tour to Ocho Rios, and were able to do some shopping. There are so many talented people that can create the most beautiful works of art out of almost nothing, and do it in such a short time. It was incredible to watch the locals create exquisite pieces right in front of our eyes within minutes. We also rented a Catamaran. They took us out on a incredible excursion; we got to enjoy the ocean and do some snorkelling. They supplied us with lunch, and their food was incredible. The boys found the Jerk Chicken a little spicy so they fed some of their chicken to the many brightly coloured fish through the netting on that Catamaran; who would have known fish would like jerk chicken?
We spent a day hiking up the Duns River Falls which was really cool, there is something about hiking up a waterfall in a rainforest, it was so beautiful. During our hike we had to opportunity to share a very important message with our children; that with community support you can achieve almost anything. Even though we didn't know anyone hiking the falls, we all still joined hands and made a human chain to climb this beautiful waterfall. Later in the week we did a little Deep Sea fishing which was definitely interesting.  I would have to say our children's fondest memory was definitely Dolphins Cove, this is a real cool family spot. We were able to swim with the dolphins, and explore some other marine life, they also had a really great petting zoo and hundreds of birds that would land on you.
This vacation provided us with so many opportunities to be out in the community even if they were tours or excursions. We were emerged in the community, we saw some not so nice places which were sad, but again a good teachable moment. We also saw so many incredible places and the entire time we felt safe. My favourite thing about Jamaica would be the people. Jamaicans are the kindest, most friendliest people we have ever had the chance to meet. They were always appreciative of our being there, we laughed together, joked together, they told us stories shared their music and their culture and we felt lucky to have had the opportunity to spend time with such amazing people. – MEGAN
3. Mexico 
I have had a chance to travel to a few different locations, and I would have to say my favourite place is Mexico. Sometimes you just need to take a break and escape the rat race and I find that Mexico is my place to retreat. The weather is always beautiful no matter what time of year, so when you are feeling overwhelmed you don't have to wait for Mexico to have good weather; you can book, pack and go. I am happy with heat so I say the hotter the better, with that being said, you do need a pool or a beach to cool down. This brings me to one of my many favourite things about Mexico; it's beaches. They are amazing, the water is turquoise blue and the view of the ocean can not be beat. The food at most of the resorts I have stayed in has always been delicious and plentiful, which is nice. You get a large variety of foods, and the fruit so juicy and full of flavour. My most favourite thing about Mexico is the laid back atmosphere, you have no other choice but to slow down and relax. – TANA
4. Vancouver Island 
I really enjoy Vancouver. It may not be the warmest in the winter but it is a  pretty amazing place to visit. With so many attractions to see; you could visit Vancouver anytime of year. My favourite time to visit would be during the summer months. Taking the Ferry is an adventure in itself, you can see marines life such as seals and whales on your journey to the smaller island. I enjoy the many amazing little shops in the smaller towns. My family loves attending the Sand Castle festivals. There are some pretty amazing sculptures built during this festival. The creativity and effort that so many people put forth to build these sand sculptures is just incredible. There is just something about holidaying at the Island, it brings a calmer sense to the day. – MICHELLE
5. British Columbia 
Between the mountains, the waterfalls, the lakes, and the endless options for beautiful hikes, British Columbia is my favourite place to vacation.  There are just so many amazing options to escape and enjoy nature, regardless of the time of year.  Since it's right next door Alberta, it's easy to get away for a weekend or longer. My most favourite place to visit in B.C. is the Radium area. It's a beautiful location to get away to. There are many campgrounds, hiking options and lakes in the area to enjoy; the area also offers easy access to an incredible natural Hot Springs. Just a short path from the parking lot down to the the edge of the Lussier River, the Lussier Hot Springs offer your choice of three natural rock pools to soak in filled with water of varying temperatures naturally fed at the source by the hot spring. Located in Whiteswan Provincial Park almost halfway between both the more popular Fairmont and Radium Hot Springs, the natural Lussier Hot Springs are an easy way to get away and enjoy the beauty of nature at its source. – HEIDI
6. Paris 
Paris is my favourite vacation I have been on. It was absolutely incredible to climb to the top of the Eiffel Tower, the view of the city of Paris was like something out of a novel. During the evening the Eiffel Tower is lit up with lights everywhere. It is so magical when the sun goes down and the sky is clear, to stand at the bottom and take in such an amazing structure. I had the chance to visit the Notre Dame Cathedral and the Arc de Triomphe which are both famous monuments in Paris. The Arc de Triumphe is located at the end of Champs-Elysees which is known for its theatres, cafe's and luxury shops.  I also got the chance to go to Disneyland Paris, this is definitely my happy place, I love Disney. Disney Paris has all of the same staple rides as the one in Calfornia, as well  as some unique rides. The fireworks over the Castle are definitely a sight to see, as Disney put on the best fireworks I have ever seen.  – B
The world is such a large place with so much to see and so much to do. As you can tell the Pure staff have travelled many places but we all have our own unique ideas of what a perfect vacation looks like. So whether you are looking for a warm escape or a wilderness retreat, these are the places that we hold dear to our hearts. For your next vacation, we hope that you find the same joy and happiness and some time to put your feet up, relax and make memories.
If you have any favourite vacations spots that you would like to mention please comment below. We'd love to hear from you!
IT'S YOUR ADVENTURE.
OWN IT.